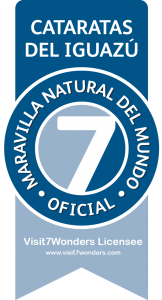 The semicircular waterfall at the heart of this site is some 80 m high and 2,700 m in diameter and is situated on a basaltic line spanning the border between Argentina and Brazil. Made up of many cascades producing vast sprays of water, it is one of the most spectacular waterfalls in the world. The surrounding subtropical rainforest has over 2,000 species of vascular plants and is home to the typical wildlife of the region: tapirs, giant anteaters, howler monkeys, ocelots, jaguars and caymans.
Airports and Airlines
Phone: 03757 42-1996.
Address: Camino Anexo Ruta Provincial 101, 3370, Misiones – Argentina.
Phone: +55 45 3521-4200.
Address: Rod. BR 469, Km 16,5, Aeroporto, Foz do Iguaçu – PR, 85863-460, Brasil.
Tourism Information
Iguazú Falls Official Site.
Hotels
Located in one of the prime locations of fate, a few meters from the most prominent shopping centers.
Amerian Portal del Iguazu Hotel, 5-star , is located at a strategic point .
Recanto Park Hotel is located at the corner of elegant character and integrated with nature.
Luxury Hotel at Iguazu Falls in Brazil.
Services
Inbound Tour Operator.
The Best Duty Free in the World.
 Bacia do Prata
Inbound. Tour Operator.
Inbound Tour Operator in Foz do Iguaçu.
One of the best shopping stores in Paraguay.